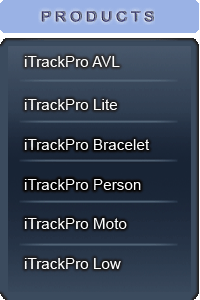 iTrackPro BRACELET
The iTrackPro Bracelet is a device based on GPS/GPRS/SMS technology to be placed on the wrist and designed for tracking, security and people location. The battery can last 5 days. It is armored, waterproof and perfect for executives or prisoners.

We offer the turnkey system, with internet monitoring optional, with free technical support option and with 1 year warranty against all faults from factory.
We give the installation, training and setting up the entire tracking central option.
Main Functionalities

● It supports GPRS/SMS communication.
● Standard tracking in real time through:unit PIN, location, speed, time, direction, alarm status.
● Automatic time reports, or through commands.
● Geofence protection.
● Voice monitoring.
● Panic button.
● Sleep mode for power saving.
● Remote configuration.
● Motion alert.
● Overspeed alert.
● SMS send and reception.
● Tracking through a cellphone.
● Low battery report.
● Alarm clock.
● GPRS/SMS time reports configuration.
● Bracelet detachment and opening alert.
● Bracelet ON/OFF status
Features

● GSM/GPRS Simcom module with internal antenna.
● GPS Module: SiRF III 20 channels, high sensitivity and with internal antenna.
● Scan rate: 1 Hz.
● GPRS/SMS communication modes.
● Protocole: NMEA-0183 compatible.
● Precision: 1-5 meters.
● GPS location start up: cold start 42 sec., warm start: 35 sec.
● Charge voltage: 4.5 to 5 Volts
● Standby consumption: 15mA
● Operation consumption: 80mA
● Li-Ion battery: 2200mAh (5 days)
● Microphone and speaker included, panic button, main button, on/off button, sim card holder, USB mini connector.
● Dimensions: 66 mm x 46 mm x 18 mm
● Weight: 50 gr